What dresses are appropriate for red carpets and special occasions
Famous designer brand Reem Acra's wedding dresses are known for their vintage pity, and their gowns are also pretty
and fairy. Today I'm going to introduce one of my favorite ready-to-wear collections: Reem Acra Fall 2016 RTW.
The collection is called "The Secret World of Femme Fatale." Imagine famous femme fatales such as Salome, Queen
Theodora, Mata Hari and silent film actress Dida Bara wearing this collection of dresses…
It's fair to say that this collection has all the right elements for a fairy dress. The Reem Acra dress is really not up to Elie
Saab.
One of the elements of the fairy dress: lace
Lace is often used in wedding dresses. Many people's first impression of lace is its delicacy, dreaminess and femininity.
In this collection, boudoir style dresses were creatively tailored and combined with plenty of lace and perspective elements to create an ethereal glamour.
The Reem Acra collection was also influenced by the flapper trend of the 1920s, adding lots of sequined details and
fringe to appeal to the wider female crowd.

Fairy dress element two: Beading
In addition to being flowy, fairy dresses also need blingbling embellishments. Reem Acra is more restrained in the use
of beads, and does not appear the tuhao style dress which is covered with beads from head to toe.
The beaded neckline and waist injected luxury into the plain black lace embroidered gown.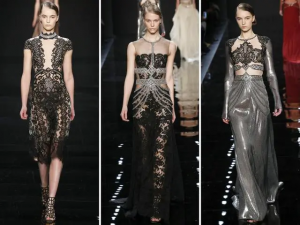 Fairy dress Element Three: tulle
Tulle is lightweight and often needs to be paired with other materials or layered to create a romantic feel. Tulle gowns
are also a favorite type of dress worn by many female celebrities on the red carpet.
The soft tulle, like smoke and mist, flickers as the wearer moves, easily creating a feeling of ethereal air.
Reem Acra dresses are perfect for the red carpet and were worn by many female celebrities in Europe and the United 
States in the year the collection was released.
Here's a comparison of the female stars' red carpet looks and the models on the runway.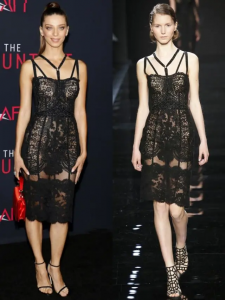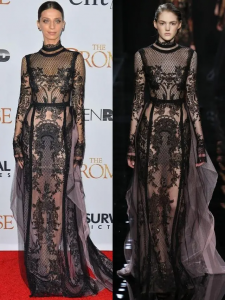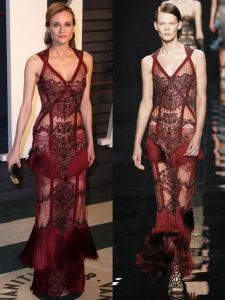 We have all the relevant fabrics for the "Secret World of Femme Fatale" themed dress Reem Acra. Welcome to choose
and buy. Looking forward to hearing from you
---
Post time: Nov-05-2022